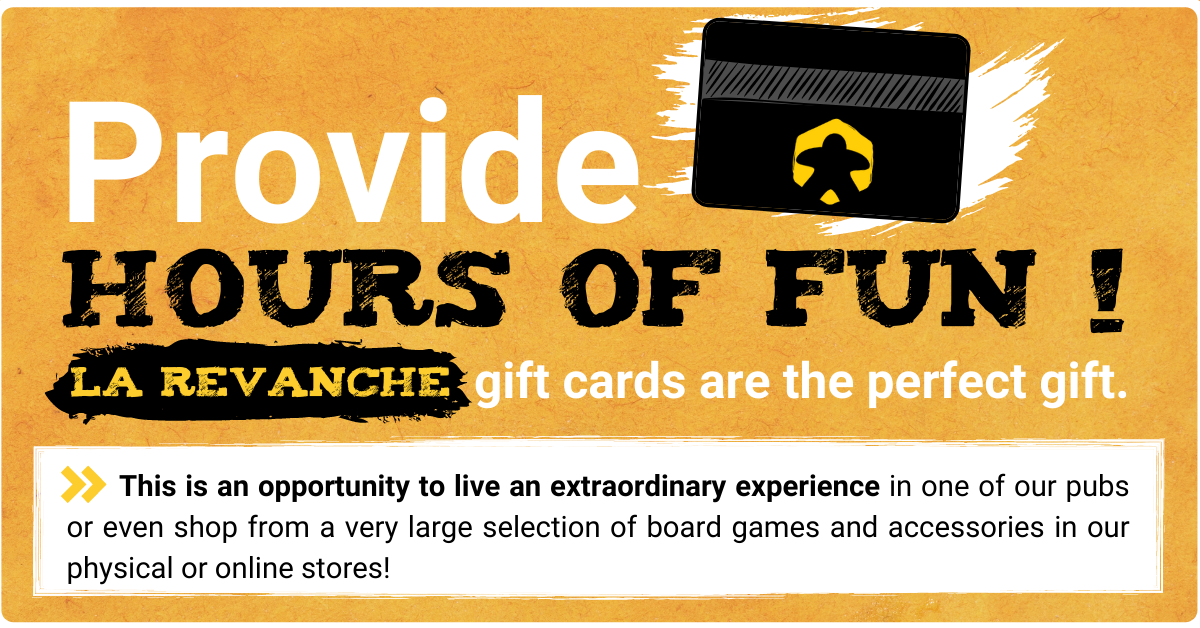 Did you know that it is possible to offer La Revanche gift cards ?
There are two ways to proceed:

1- Buy a virtual gift card that will be emailed to you by simply using this link: larevanche.achatdecartescadeaux.com

2- Buy a gift card within opening hours in one of our pubs. An on-site employee will be happy to serve you.

If you are a school, camp, or other organization with multiple groups, we have a special package for you, with an even better price! Click this link for more information.
Where can I use my gift card?

In any La Revanche pub! The card can be use to play, drink, eat, or to buy games on site!

Online store: How do I use my gift card online?

Don't look any further, there is no place to enter your gift card number during the checkout process.

However, here's how you can use it :

1- Fill your cart as usual and go to the payment confirmation step.

2- In the "Remark" section, enter "Gift Card: " followed by the number of your gift card. Specify the amount if you do not want to use the full amount available.

3- Complete the full payment normally. So you have to pay and you will be
reimbursed.

4- We will process your request within 48 business hours. We will then charge your gift card and then process the refund. Note that banking institutions sometimes take 5 to 10 business days. This delay is unfortunately beyond our control.

How do I CHECK THE BALANCE of my gift card?

Just use this link: larevanche.verifiervotresolde.com